Enter details
Payment
Complete!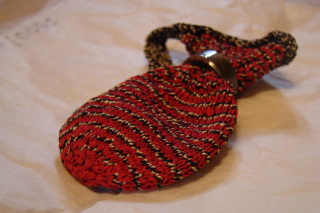 Textiles
A history of knitting from the Tudor period onwards
A brief practical history of knitting in Britain, looking at the products, techniques, and social history of knitting and knitters from the 16th to the 20th century. We shall be...
Tickets include:
A history of knitting from the tudor period onwards £60.00
Dorset button
You will make two different types of beaded Dorset button, which you can turn into a keyring, a brooch or a wall hanging. You will learn about the history of Dorset buttons from...
Felt making day
This one-day course is suitable for beginners. We will produce colourful pieces of handmade felt using dyed fibres & a seamless purse. Feltmaking is the oldest form of...
Flax to linen
The course Learn the process of how our ancestors changed the flax plant into linen fabric. For millennia this basic but vital plant clothed us and became our second skin; come...
Introduction to crochet
Join a short relaxed session to learn some basic crochet stitches.
Tickets include:
Introduction to crochet £20.00
Natural dyes
An interactive day using plants from the museum site to dye locally sourced wool. Including a walk around some of the museum's historic gardens to find out about how to grow,...
Peg loom weaving
Peg loom weaving is an easy way to produce simple rugs and fabrics using fleece, yarn or recycled materials. In this one day workshop, you will make a wooden peg loom (which you...
Learn to braid
Braiding has long adorned clothing and other belongings. This is a chance to be shown some simple braiding techniques and to try them out in a small group.
Hanging pocket - English quilting
An opportunity to learn how to do traditional quilting and create a useful hanging pocket. In the 18th century every woman would have worn a pair of these under...
Tickets include:
Hanging pocket - English quilting £60.00
Stumpwork: Butterflies
Make a stunning three-dimensional butterfly, using wire-work techniques together with organza fabrics and metallic threads to create delicately patterned wings. Learn to...
Tickets include:
Stumpwork: Butterflies £55.00
Your basket
Item
Price
Quantity
Subtotal
There are no items currently in your basket

Total

£0.00